Wilma, go home to Fred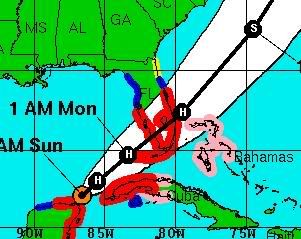 She's on her way. Slowly but surely. The slowness is what's going to hurt.
You can check here for the warnings and there is a link on that site for satellite images of her - you can watch her yourself - how cool! You can bet I'll be doing that - at least until the power goes out.

OH - I'm now offering tours of Florida in the "BEFORE WILMA" phase of my new tourist campaign. Come, experience Wilma, be awed, be amazed, get wet! See what Florida was like BEFORE Wilma, DURING Wilma, and AFTER Wilma! Experience a real hurricane! It's NOTHING like the video on TV. NOW with REAL POWER OUTAGES! Cook breakfast on the grill! Wade through your front yard! Watch the trees in your back yard bend and sway. Say real prayers that you'll get to see one snap like a toothpick. Perhaps it will LAND ON SOMETHING NEAT!

No takers? C'mon, you know you wanna.

I'm going to be at work when she blows through. This is gonna be fun. (Can you smell the sarcasm? It's oozing from my pores) We have a generator now at work for the whole building so I'll be popping in on the site now and again with updates as time permits. Once I go home - if the power's out - well, that's that.